The main page is one way that people can first experience your wiki. It's also a page that's commonly available on every other page, since clicking on your wordmark can transport you to the main page (depending on your user preferences, see "Landing page"). As a result, it's frequently one of the most-visited pages on any wiki.
So make sure it looks great — and that it links to the most vital pages in your community! And don't be afraid to change it up from time-to-time. Since updating the main page will often require making new choices in Theme Designer, the entire look of the wiki will likely be refreshed at the same time!
Don't be afraid to look at other wikis around Fandom for ideas about how main pages can look. Main pages come in all shapes and sizes, and the wise administrator never stops looking for the next great main page idea!
Taking your first steps with a main page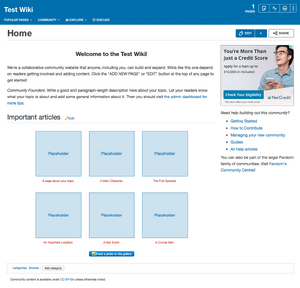 There are many paths to success for main pages. However, here are some great starting points:
If you've just created a new community, your main page is populated with a set of default content. This content suggests some pathways you could use to tailor your wiki to your needs.
You can change any part of this page by editing it. Simply click the "Edit" button at the top of the page. We strongly suggest editing this page in source edit mode — and therefore with a knowledge of wikitext — since it's necessarily a more complicated page than the average article page. Consequently, it defeats the VisualEditor's usual ability to faithfully represent the page as it looks.
We recommend that your main page includes a short intro paragraph that tells your readers what your community is about and what people can expect to find there.
We also recommend that you include links to the most important articles on your main page. This will help readers find their way to great content quickly. As seen at right, the starting point of new wikis gives a number of suggestions about possible links you can make.
Most successful main pages use galleries. For best effect, learn how to build them in wikitext.
Though there are some use-cases for sliders, we don't particularly recommend them these days for main pages.
Be sure to give your main page a clean design. It doesn't need to be fancy; it just needs to look good!
Some technicalities
The system message MediaWiki:Mainpage defines the location of the main page – that is, where users end up when visiting your community via the basic URL (name.fandom.com).
If you rename your main page via the normal page rename tool, MediaWiki:Mainpage is automatically updated to point to the new location.
Main page column tags are your friends! They come with new wikis by default. If you get rid of them, it's likely that your design won't work on all devices and browser widths anymore. They help separate main page content into a wide left "column" area and a narrow right "column" (that should match the width of the uneditable right rail on other pages). They also steer your content successfully around the ad that appears in the top right corner of every wiki.
Consider breaking up your main page's content into discrete modules, and then making a separate template for each module. This makes maintenance a lot simpler — and clearer — since you'll be dealing with a single part of the main page at one time, instead of the whole thing!
See also
Further help and feedback
Community content is available under
CC-BY-SA
unless otherwise noted.